Following is information for Lizzy Curran:
Email:
lizzycurran@creighton.edu
Office Hours:
Tuesdays and Wednesdays from 9-11am
Department/Title:
Global Engagement Office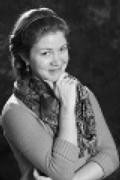 About Lizzy Curran:
Lizzy has worked in the Global Engagement Office (GEO) since 2013 with study abroad, exchange students, and international students.
Lizzy advises students interested in the College of Arts and Sciences and the College of Nursing. To set an appointment with Lizzy outside of walk-in hours, please call 402-280-2221.